Referral Program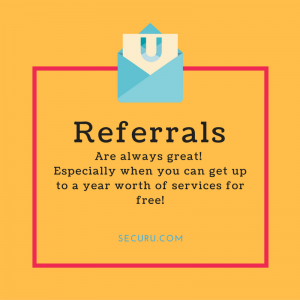 It's a pleasure having you…
Thank you for being such an amazing customer.
At SecurU, we cherish each and every client because we couldn't have gotten to where we are without your support.
Thus… We thought why not introduce a referral program that truly gives! 
The Referral Program
Every time your refer a client to SecurU and they end up partnering with us, we will give you 2 months worth of free monitoring services. This means… When you refer 6 new customers, you get a year worth of services for free!
Just fill in the Form…
If you know someone who'd be interested in our services and products, please fill in the form below: